Back to staff directory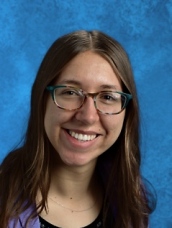 Hi! My name is Abigail and I am an intern teacher at Chinook this fall! I will be teaching Math 9 and Math 10C. I am in my last year of a concurrent degree at the University of Lethbridge, and soon will have a BSc. in Math, a BEd. in Math Education and a minor in French Education.
I was born in Ottawa but moved to Selkirk, Manitoba the summer before Grade 6 and completed my junior high and high school years there. I was heavily involved in the performing arts in high school (wind band, jazz band, choir, drama, musical theatre, a baroque recorder ensemble, etc.) and I am still very passionate about the arts and making music. I also enjoy journaling, going for walks in the coulees here in Lethbridge, and attempting to bake after watching The Great Canadian Baking Show.
I also enjoy teaching math! I believe that we can all get something beneficial out of studying math. Engaging with math can help us hone our problem-solving skills, develop our ability to persevere when faced with challenges, and help us see the world in a new mathematical light (if you want to dive down a rabbit hole, look up "The Mathematical Universe Hypothesis"). Studying math also helps us understand math jokes! Here are some of my favourites:
1. You know what seems odd to me? Numbers that aren't divisible by 2.
2. How do you know that the fractions x/c, y/c and z/c are not in North America? They are all over c's!
3. I knew a math teacher who always forgot to bring money to school to buy a meal at lunch. She could binomials.