Back to staff directory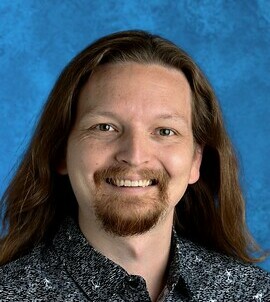 Hi everyone! My name is Duane, and I have the tremendous fortune to teach Drama 9, 10, 20, 30, Advanced Acting, and Technical Theatre. If you'd like to get a hold of me, email is best, duane.piper@lethsd.ab.ca. If you'd like to come in and chat, my door is always open, and the tea is always on. Or if you'd prefer coffee, I can always steal some from Brady Hway's office... If you're here for the sole purpose of getting to know more about your favourite drama teacher, well then read on!
I am originally from the Peace Region waaaaay up in northern Alberta, and I moved down to the sunny south in 2001. The University of Lethbridge was a wonderful place for me to study and earn a few degrees. In fact, I can't seem to stop, so I am currently working on a master's degree in education. As I explained to my kids this September, I am currently in grade 20! My thesis work surrounds using theatre to enable students and staff to explore the calls to action of the Truth and Reconciliation Commission of Canada. This blends my love of theatre, interest in leadership, and my Cree heritage into a project that I am profoundly fascinated with and continually humbled by.
Family is the most important part of my life, I've got a wonderful wife and three awesome kids. As a family, our interests vary from music to rock climbing. On weekends and over the summers we can be found wandering through the mountains or paddling down rivers. In between adventures, we might just spend some time on the couch watching junk TV too, because not everything in life has to be Instagram worthy.
As a practicing theatre artist, I've been lucky enough to spend the last 20 years acting and directing. Some of my all time favourite shows that I've worked on include; The Curious Incident of the Dog in the Night-time, Six Minutes and Thirty Seconds, You Can't Take It with You, Iisohksiik: Moving Forward, Crazytown, Munsch at Play, The Rez Sisters, Goodnight Desdemona/Good Morning Juliet, LA Joy, Wash, Whose Afraid of Virginia Woolf and many more.
*** Special Bonus Round ***
The following is a list of jobs I have had in the past, all but one are absolutely true. See if you can spot the lie, then the next time you see me, make your guess!
VHS rental clerk
Summer camp leader
Class 1 truck driver
Support worker for people with special needs
Youth addictions counselor for AHS
Grade 3 teacher