Back to all posts
Posted on
Parent Teacher Conferences- October 24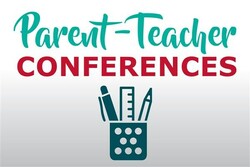 Chinook High School Parent Teacher Conferences: Thursday, October 24, 2019 (1:00 - 4:30 + 5:30 - 7:45 PM)

At Chinook High School, Parent-Teacher Conferences are a key part of our communication strategy regarding your child's progress. Please plan on booking and attending a Parent Teacher conference with the applicable teacher(s) for each child you have attending the school.

This round of conferences we are using a web-based scheduling application we call the Chinook High School Conference Manager. This application allows you, as a parent, to use the Internet to check our teachers' conference schedules and book appointments quickly and easy.

The first time you use the Chinook High School Conference Manager you will be required to register for a new account, which only takes a minute or two. You can continue to use this same account for the duration of the time you have children in the school, so please record your password where you can reference it later. Please note that although parents can register at any time, the booking of conferences can only begin at or after 8:00 AM on October 17, 2019.

You may want to register right away as a scheduling reminder email is sent to parents who are registered just as the scheduling commences. If your email program flags automated emails as junk mail, you may want to put "appointments@schoolsoft.ca" in your email address book.